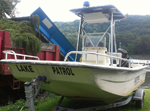 The LHA acts as agent for the member towns in regard to patrolling Lake Housatonic to insure safe operation of watercraft.
There are over 350 motor boats "in residence" on Lake Housatonic, plus many more that arrive through Indian Well State Park for day use.
No town or state organization has marine patrol authority on Lake Housatonic. All town police and CT police and Department of Environmental Protection activities are land-based only, unless called to an emergency. LHA Patrol officers are trained by the CT Police Academy, and have also received first aid, CPR, boating law, and safety training.